Gut to Glow targets nutricosmetics category with novel probiotics
Formulated by best-selling author and cardiologist Dr William Davis MD, Gut to Glow is building on the beauty-from-within potential of L. reuteri.
Speaking with NutraIngredients-USA​, Dr Davis, author of the best-selling Super Gut​, described the correlation between gut health and modern ailments and complaints.  Through years of research, he has identified how modern life has eradicated the intestinal microbe Limosilactobacillus reuteri ​from 96% of people in the Western world.
For years, Dr Davis has been advocating the importance of L. reuteri​ restoration through the consumption of yogurt fermented with two unconventional strains of L. reuteri​. 
"I have been impressed with the health and skin benefits seen with the consumption of L. reuteri​ yogurt," he told us.  "It was out of the need to obtain this important microbe without having to make to yogurt, that Gut to Glow was created."
Gut to Glow                                                                                                                                                   ​
Realize Therapeutics, Corp., was founded to develop proprietary microbiome therapeutic formulations to improve health and physical appearance.  
"Oxyceutics, Gut to Glow is our debut product," said Dr Davis, who is co-founder and chief medical officer of Realize Therapeutics Corp. and Oxyceutics.  "Gut to Glow is a revolutionary product like no other," he said.
Launched in 2022, Gut to Glow is formulated with a proprietary LRDR strain of L. reuteri​, coupled with marine collagen hydrolysates, astaxanthin, and hyaluronic acid.
Based on the science of the gut-skin axis, Gut to Glow was formulated to provide "beauty from within", increasing dermal moisture, dermal thickness, and stimulating the production of collagen.
An unpublished preclinical validation trial of Gut to Glow was conducted in 2022.  Twenty volunteers took four capsules daily for 12 weeks.  Preliminary results showed 88% of women reported a brighter and more luminous skin tone, and 81% a more youthful appearance.
"We launched our first human clinical trial once Gut to Glow was released," said Dr Davis.  "We currently have five clinical trials in progress with results to be published in the next two years." 
Future Platforms​
"While our initial focus is youth restoration beginning with improvements in skin and appearance, future areas of research and development include solutions for microbiome-related health issues," said Dr Davis.  "One of our clinical trials demonstrated a shift in body composition, with loss of abdominal fat and preservation of muscle." 
Realize Therapeutics is in the process of developing microbial formulations to change body composition, mitigate genitourinary syndrome symptoms, address small intestinal bacterial overgrowth, and metabolic endotoxemia.
Nutricosmetics: Are Probiotics on Your Radar?​
Probiotic supplements are drawing great attention on the global market with their ability to naturally improve digestion, emotional wellbeing, and support healthy appearance.  In fact, 37% of consumers' associate probiotics with skin health and 18% of consumers seek for probiotics when buying supplements for skin health (FMCG gurus, 2021).
With the growing acceptance of probiotics as dietary supplements, it has increased their demand in the nutricosmetics market.
"It's a really exciting time," said Dr Davis.  "Microbiome science is going to change health and healthcare and nutricosmetics is going to change how woman approach skin health and appearance."
Blog Post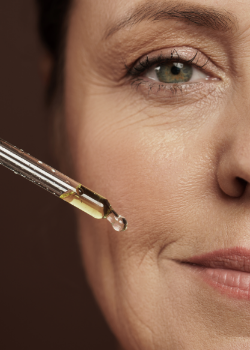 Seeing is believing: Supporting the skin microbiome
Delve into the power of the skin microbiome and the rise of probiotic and postbiotic cosmetics for healthier skin.

Read Now